Collector Page for John Krygier
Member since 10/20/2005
| | |
| --- | --- |
| Location: Columbus, Ohio | Collector Since: 1997 |
| | |
Collection Properties

Types of ML Books Collected

Regular, with DJ (749)

&nbsp

&nbsp

&nbsp

&nbsp

Types of Bindings in Collection

#1 - 2

#2 - 11

#3 - 1

#4 - 12

#5 - 18

#6 - 5

#7 - 87

#8 - 402

#9 - 6

#10 - 16

#11 - 71

#12 - 23

#13 - 36

#14 - 59

Total Titles in Collection: 749
Other Collection Categories and Attributes: DJ Only
Comments on the Collection
My Modern Library collection focuses on the regular series, all with dust jackets, most acquired for $15 or less (many for well under $10). My find of the century was a collection of 21 pre-1935 MLs, including 11 B&L copies (one from 1917!), all in DJs - purchased for $75. I do have a few rare Giants, several buckrams, pirated editions and an Illustrated ML or two. I also collect other series in DJ. I have over 500 Everyman's titles, as well as books from 110 other series, similar to the Modern Library and Everyman's in format (small hardcovers) and content (classics or more literary fiction and non-fiction).
Collection Images
(Click on image for full size)
My library is in the livingroom of our 1920s home in Columbus. The left bookshelf holds 3.5 shelves of pre-1939 MLs, a few rare Giants, and 3 shelves of rare hardcover MLs on the bottom. On top of the shelves are binding 14 titles. The cases to the right contain books from 100+ other series; the three shorter book cases are filled with 500+ Everyman's Library titles. The chair is divine for naps inspired by reading the classics.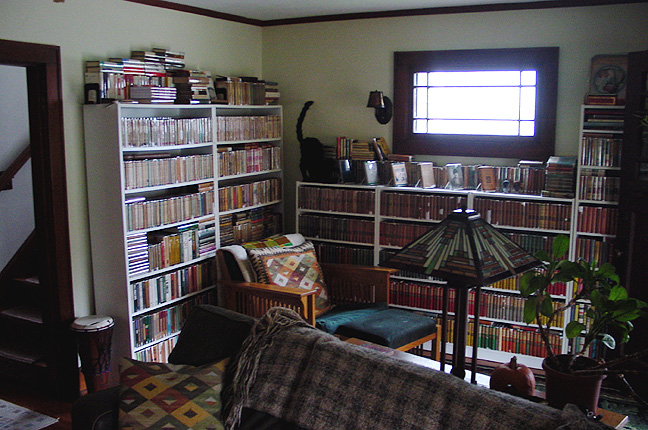 The other side of the livingroom has built-in bookshelves, containing hundreds of more common Modern Library hardcover titles. Gracie, a sweet tornado of an Airedale is also pictured. Airedales were popular in the 1920s - the heyday of the Modern Library and other similar series. Thus, she complements the books and the house.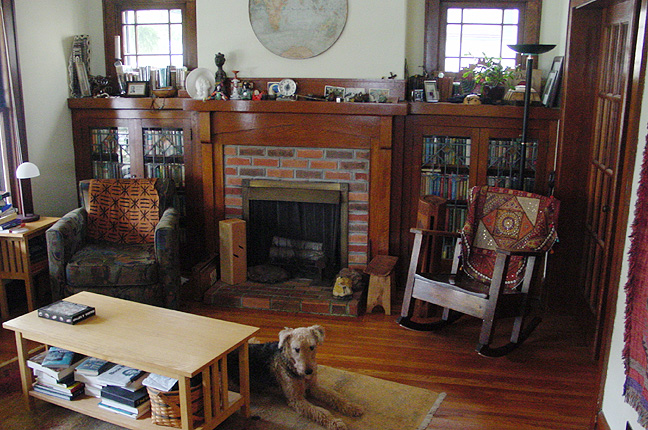 Some of my oldest MLs - mostly Boni and Liveright.

On the More Personal Side...
| | |
| --- | --- |
| Favorite ML Titles | Disliked ML Titles |
| Forester: African Queen | |
| Jackson: Lost Weekend | |
| Kosinski: Painted Bird | |
| Dostoyevsky: Crime and Punishment | |
| Misc: Best / Famous Ghost Stories | |
Favorite Dust Jacket: 1940-43 HC Rabelais
ML Title Currently Reading: None: Reading Cox's The Meaning of Night
Last ML Title Read: Maugham: Moon and Sixpence
How Many Modern Library books have I read?: 100
Personal Image
(Click on image for full size)
I recently picked up a FMLE (1939) edition of Stone's "Lust for Life" for a couple of bucks. The binding is balloon cloth, but the size is the same as the HC MLs that would start to appear later that year.