Collector Page for Benjamin Clark
Member since 11/2/2005
| | |
| --- | --- |
| Location: Montana | Collector Since: 2004 |
| | |
Collection Properties

Types of ML Books Collected

Regular, with DJ (35)

Regular, no DJ (43)

Giant, with DJ (13)

Giant, no DJ (7)

P-Numbered Paperback (5)

Buckram (10)

Illustrated/Boxed (1)

Illustrated/Acetate

Illustrated/No Cover (1)

College Edition (3)

Woodcuts (4)

Other Post 1970 (3)

&nbsp

Types of Bindings in Collection

#1 - 1

#2 - 4

#3 - 1

#4 - 4

#5 - 3

#6 - 3

#7 - 9

#8 - 53

#9 - 1

#10 - 2

#11 - 3

#14 - 3

#17 - 1

G2 - 2

G3 - 3

G4 - 3

G5 - 9

G8 - 2

G9 - 1

Total Titles in Collection: 125
Other Collection Categories and Attributes: Catalogs/Brochures; Collect by Binding
Comments on the Collection
I'm still working on a collection focus. I keep thinking 1sts only in DJ VG/VG would be fun, but I get impatient and wind up with either VG/None firsts or VG/VG non-firsts. *Shrug*. I do a lot of "collect and release" and don't feel compelled to own every title all at once. I would like to have owned them all, at one time or another. Like most people, I am trying to get at least one copy of all B&L titles in vg or better B&L bindings. I'm not going to hold my breath for B&L dust jackets, or even VG 1sts. I also like having "representatives" of different variations and oddities in my collection, like buckrams, pirates, British, ephemera etc. I especially like buckrams with clean spines. One of my coolest finds was the Scribner's book for $15 at Larry McMurtry's Booked Up in Archer City, TX. But I also love the matchbook covers I got out of a mixed bag lot of matchbook covers on ebay. I was just browsing and voila, there they were. They're in rough shape, but no one else seems to have these exact ones.
Collection Images
(Click on image for full size)
My only BL dj is a small blurb piece glued into a copy of Pepys' Diary.
A nice British find. The dust jacket is, of course, long gone and the spine is faded. It's a #7 spine, and otherwise an unremarkable copy. No catalog at the back to date it exactly. I currently have 6 British imprint titles. One in dust jacket (Jane Eyre), which is posted on Mondernlib.com.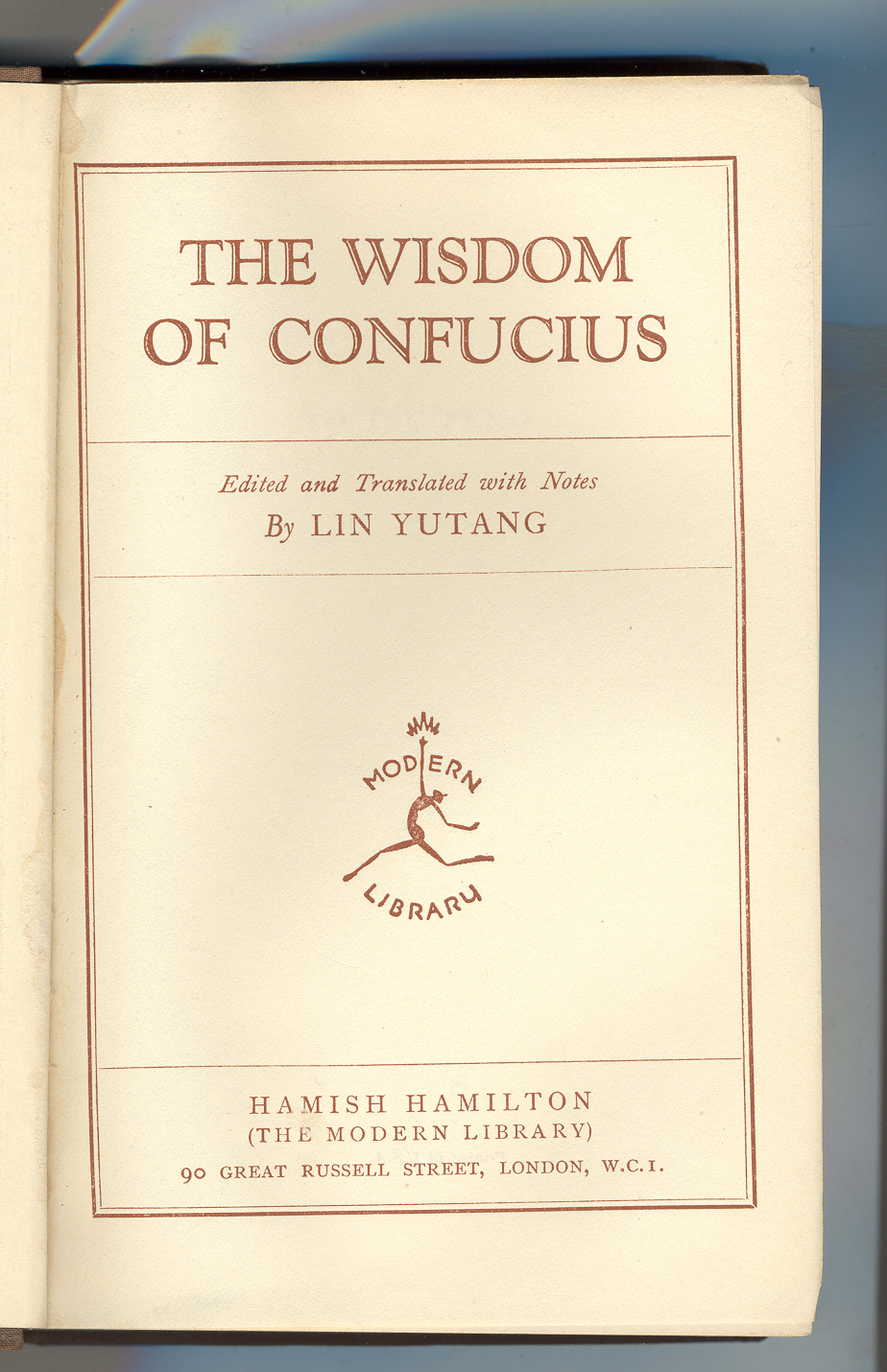 Found two 1945 matchbook covers. Terrible shape... still looking for the feature book(s) that may be out there. How many different matchbooks are out there? How many different matchbooks did RH make? There is at least a 10 year gap between these and the others usually seen on ebay and on modernlib.com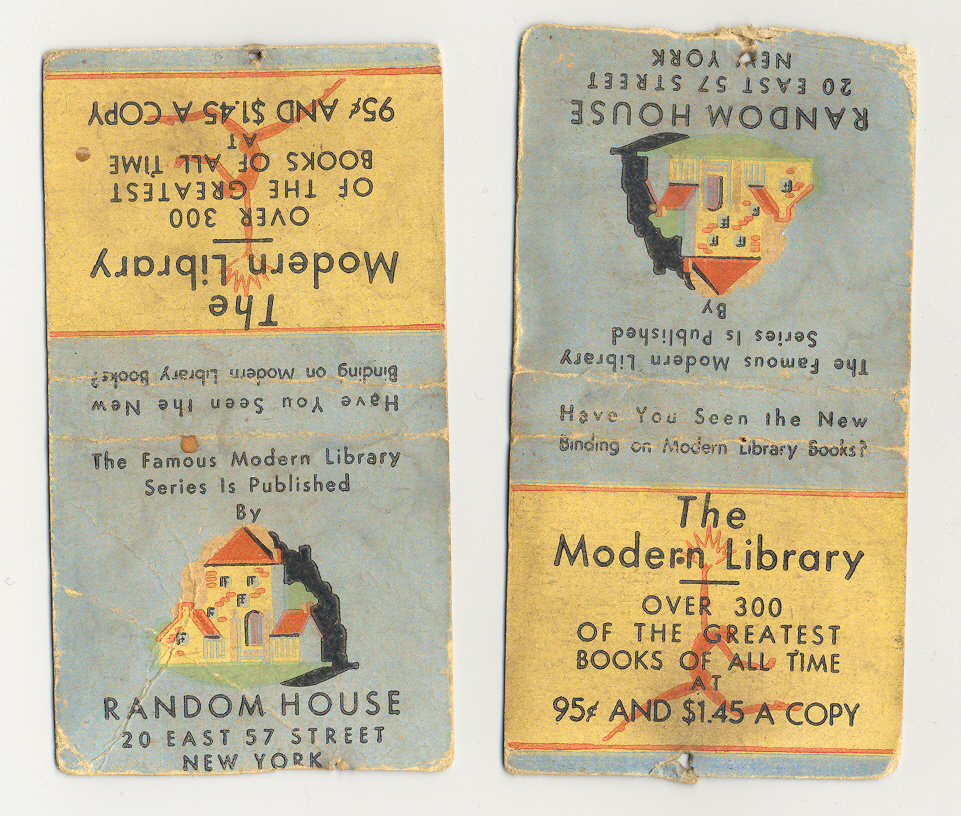 On the More Personal Side...
| | |
| --- | --- |
| Favorite ML Titles | Disliked ML Titles |
| Selected Stories by Wodehouse | Madame Chrysantheme by Loti |
| Moon and Sixpence | |
| Walden | |
| Farewell to Arms | |
| The Enormous Room | |
Favorite Dust Jacket: All woodcuts: early '30s and '80s.
Last ML Title Read: The Enormous Room
How Many Modern Library books have I read?: 9999
I've really enjoyed collecting, reading Modern Library books, and contributing to ModernLib/Dogeared and look forward to contributing what I can here as well! I've just finished reading At Random by Cerf and Dear Donald, Dear Bennett. Both were great. I also recently picked up a thin little book published after Klopfer's death about him. Off the top of my head, it seemed like a small number where printed, but it's a very nice little book.
Personal Image
(Click on image for full size)