Collector Page for Greg Brister
Member since 5/24/2006
| | |
| --- | --- |
| Location: Kansas | Collector Since: 1991 |
| | |
Collection Properties

Types of ML Books Collected

Regular, with DJ (325)

Regular, no DJ (61)

Giant, with DJ (100)

Giant, no DJ (11)

Buckram (5)

Illustrated/Acetate (4)

Types of Bindings in Collection

&nbsp

&nbsp

&nbsp

Total Titles in Collection: 506
Other Collection Categories and Attributes: DJ OnlyOther Collection Categories and Attributes: Collect by Binding
Comments on the Collection
My collection began entirely by accident. While on a day trip to Stillwater, Minnesota, more than fifteen years ago, I wandered into an antiquarian bookstore that was busy with people carrying off boxes full of books. Up until then, I had only sought out copies of works by Faulkner and the modern poets. Be that as it may, the store had lost its lease and was selling every book for less than half the listed price, so I decided to buy whatever title interested me even marginally. In one neglected side shelf I found a tight row of acetate-wrapped modern library books—dating mostly from the 1940s. At about three dollars per copy (the final day cut rate), I remember judiciously selecting only the titles I wanted to read. I left with more than twenty books and what would be the cornerstone of my present collection—but what haunts me still (and perhaps this is the shelf-broken shadow that stretches behind every passionate bibliophile) are those books I left in that plywood bookcase; books whose titles I did not recognize but now worry may have been accordingly the rarest. That bookcase, in my memory, minus my selections, looks like a toothless grin. At the risk of sounding like a curmudgeon, the euphoria I experienced as a collector of these books in the early days has been quelled by the rise of eBay and online shopping (in hindsight, that bookstore going out of business was just a precursor to the many that would go under because of Internet selling). I started collecting these books as many do—because the titles are worth reading, the bindings are attractive and, as the original advertisements read, the series was meant to present "outstanding contributions to literature of the past and present, in authoritative editions, at a price within everyone's reach." In other words, they were intended for a middle-class readership excluded from the snobbery (and expense) of book collecting. I remind myself of this fact—and how I started collecting in the first place—when I get tempted to spend more on a modern library than on new paperback edition of the same book.
Collection Images
(Click on image for full size)
This is the concentration of the collection—note the Modern Library display bookshelf. My wife, Emily, gets the credit for finding it: we were at a used bookstore and I was scanning the books (dimwittedly, as usual), and she had to point out the bookshelf logo to me. It had some modifications done—the top was lifted. The bookstore owner told me it was because the previous seller used the case for pornographic novels and needed more room for them.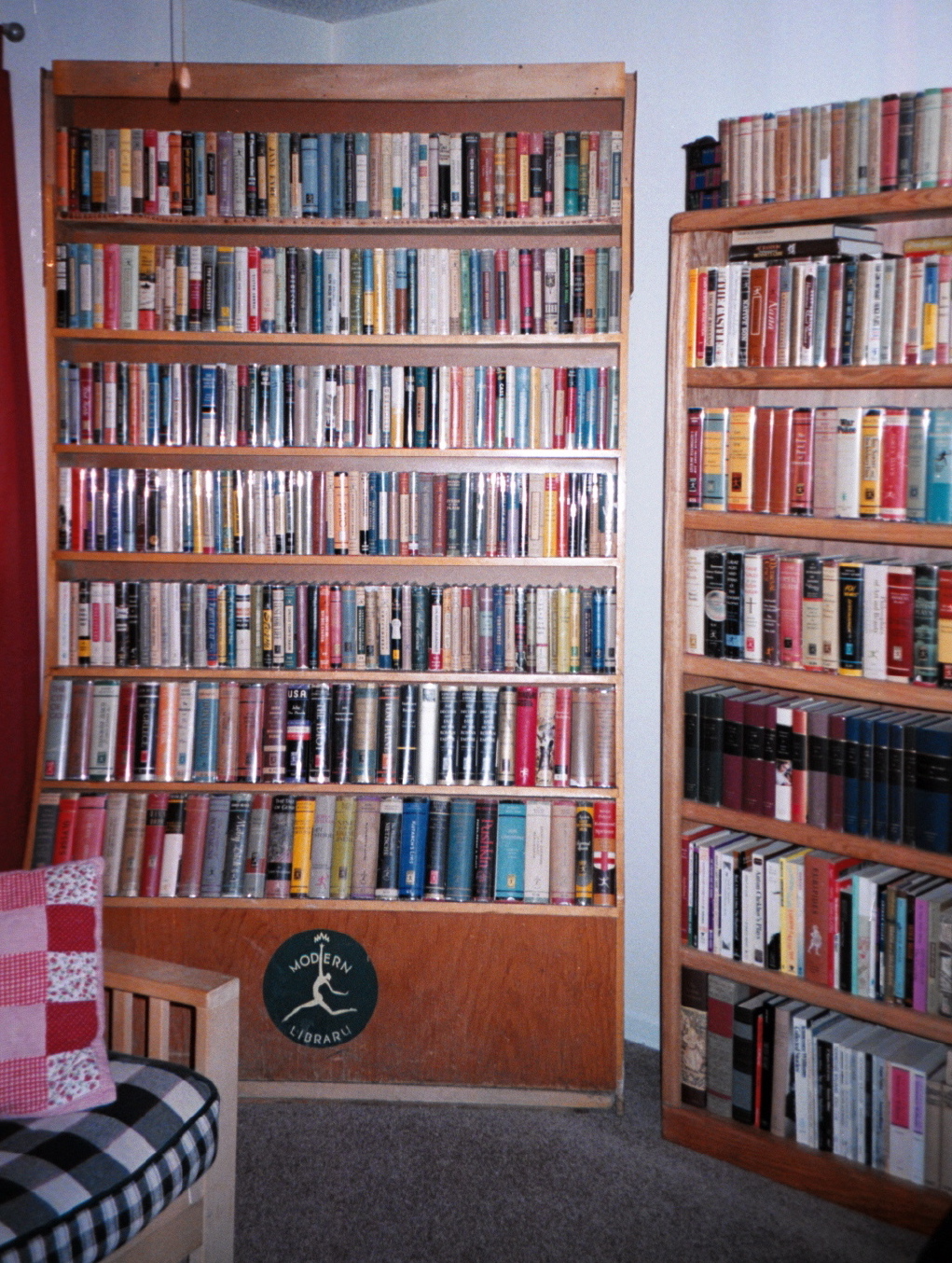 On the More Personal Side...
| | |
| --- | --- |
| Favorite ML Titles | Disliked ML Titles |
| Faulkner:Sound & the Fury/As I Lay Dying | |
| Joyce's Ulysses | |
| Gertrude Stein's Selected Writings | |
| | |
| | |
Favorite Dust Jacket: Dali's 1943 cover for the Illustrated Don Quixote
Last ML Title Read: O'Neill's Strange Interlude (9 Plays of)
Home Page: www.people.ku.edu/~brister
Personal Image
(Click on image for full size)