Collector Page for John Peterson
Member since 11/2/2005
| | |
| --- | --- |
| Location: Fort Wayne, Indiana | Collector Since: 1990 |
| | |
Collection Properties

Types of ML Books Collected

Regular, with DJ (660)

Regular, no DJ (100)

Giant, with DJ (154)

Giant, no DJ (4)

P-Numbered Paperback (6)

Buckram (19)

Illustrated/Boxed (8)

Illustrated/Acetate (4)

Illustrated/No Cover (6)

College Edition (1)

Woodcuts (17)

Other Post 1970 (90)

&nbsp

&nbsp

&nbsp

Types of Bindings in Collection

#1 - 14

#2 - 29

#3 - 18

#4 - 25

#5 - 35

#6 - 4

#7 - 17

#8 - 400

#9 - 26

#10 - 50

#11 - 50

#12 - 25

#13 - 30

#14 - 37

#15 - 11

#16 - 9

#17 - 34

G2 - 5

G3 - 6

G4 - 12

G5 - 105

G6 - 9

G7 - 7

G8 - 9

G9 - 3

G10 - 10

Total Titles in Collection: 1069
Other Collection Categories and Attributes: Catalogs/Brochures
Comments on the Collection
I began collecting modern library books (the regulars)several years before I was aware that others were doing the same thing. One day I put "modern library" in a search engine, and up came Dogeared! I've replaced most of the 100 or so volumes in my original collection (I originally preferred them without DJs). For me, the hunt is the best part of this hobby. In hunting in thrift stores, etc. for MLs, I've occasionally found other treasures. For example, a signed Wodehouse First, which I traded for $300 credit at the local bookstore. I used said credit for a ML shopping spree. I like some of the current MLs (e.g.Short stories of Richard Bausch, and several by Joseph Mitchell) and collect ones that are new to ML. Nevertheless, like most ML collectors, have preference for the regulars. The best find I've made so far has been all three volumes of a 1929 Gift set, with DJs, for $8 each.
Collection Images
(Click on image for full size)
This is most of my collection, although it is slowly driving out other books from my bookshelves.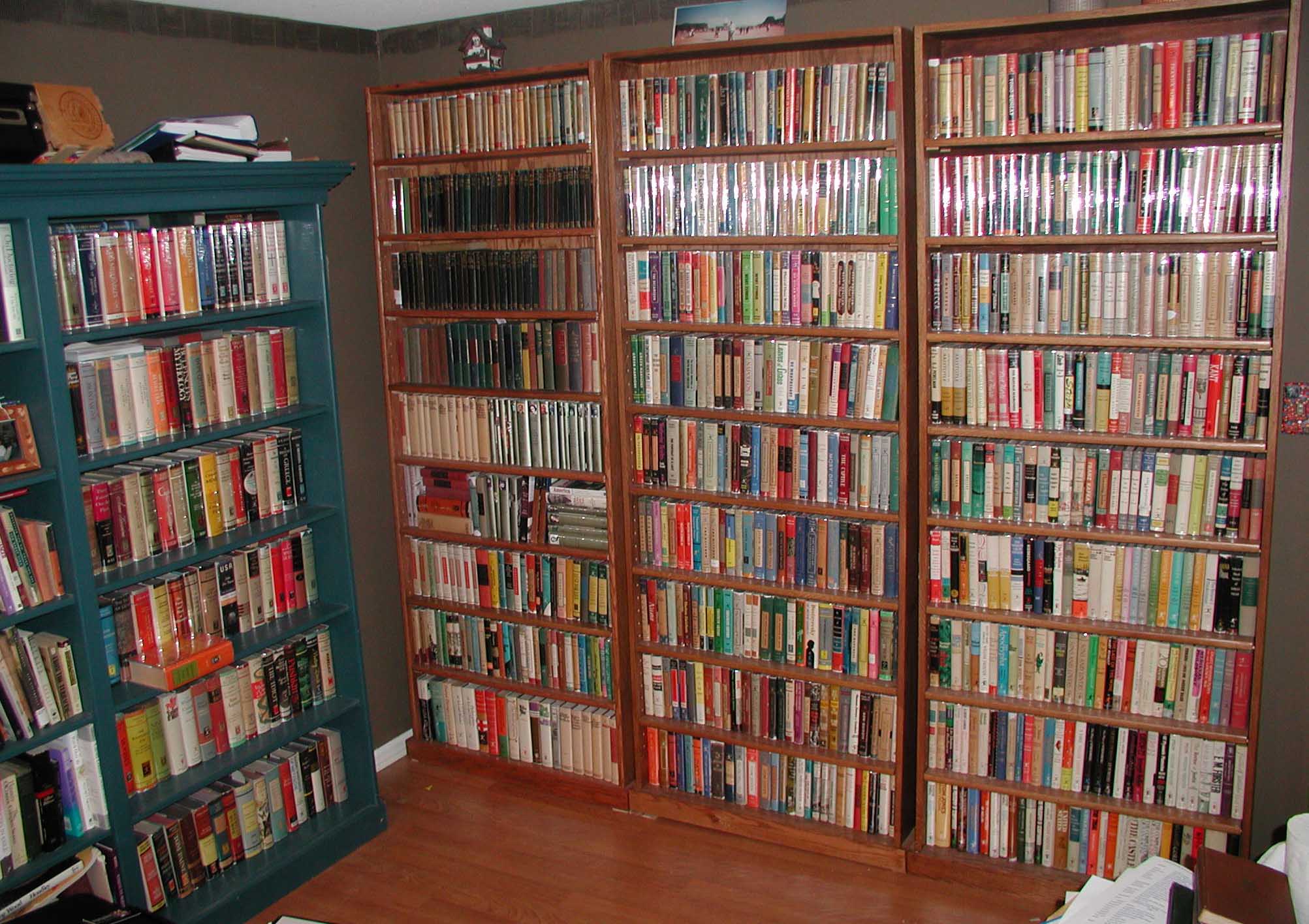 A picture I took to enter a contest conducted by Fort Wayne's best used bookstore.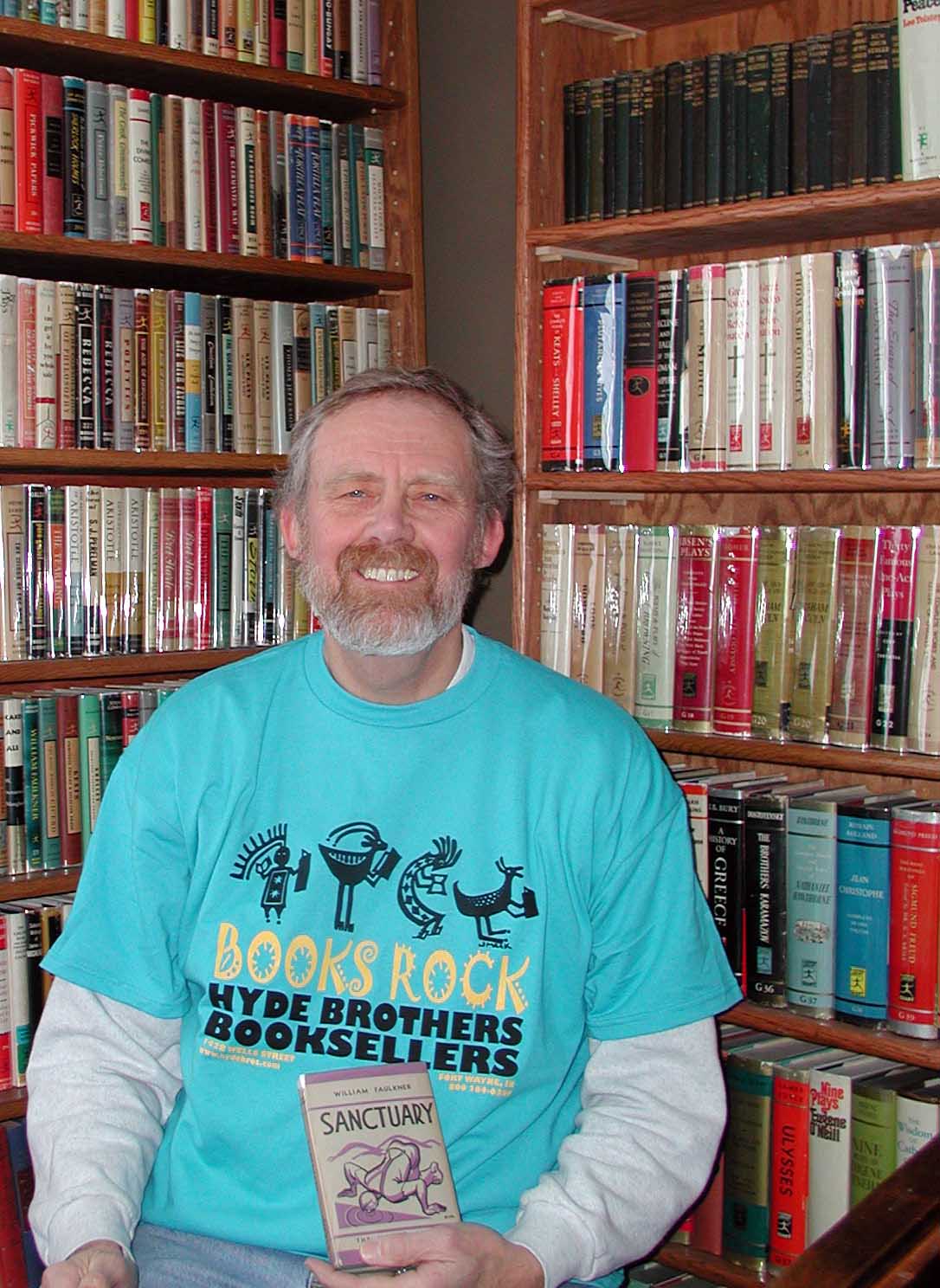 On the More Personal Side...
| | |
| --- | --- |
| Favorite ML Titles | Disliked ML Titles |
| Death Comes to the Archbishop | Jean Christophe |
| Short Stories - Maugham | Short stories - O'hara |
| Short Stories - Singer | Great Voices of the Reformation |
| Nine Stories - Salinger | |
| Morte D'Urban | |
Favorite Dust Jacket: Madam Bovary Gift Edition 1928, Sanctuary 1931
Last ML Title Read: Short stories of Saki
I'm a hospital chaplain, and besides books I enjoy woodworking and running and travelling with my wife. In October I completed my 21st marathon at age 60. We have a cocker spaniel who keeps us in stitches. His name is Cicero, or 272.1 for short.
Personal Image
(Click on image for full size)