Collector Page for Ron Holl


Member since 9/28/2005
| | |
| --- | --- |
| Location: Chardon, Ohio | Collector Since: 2004 |
| | |
Collection Properties

Types of ML Books Collected

Regular, with DJ (516)

Regular, no DJ (3)

Giant, with DJ (82)

Giant, no DJ (1)

P-Numbered Paperback (70)

Buckram (2)

Illustrated/Boxed (14)

Illustrated/Acetate (1)

College Edition (5)

Woodcuts (16)

Other Post 1970 (50)

&nbsp

&nbsp

Types of Bindings in Collection

#2 - 1

#3 - 2

#4 - 3

#5 - 9

#6 - 4

#7 - 78

#8 - 296

#9 - 5

#10 - 9

#11 - 56

#12 - 11

#13 - 18

#14 - 21

#16 - 8

#17 - 5

G3 - 3

G4 - 7

G5 - 37

G6 - 16

G7 - 19

G8 - 2

G9 - 7

G10 - 2

Total Titles in Collection: 760
Other Collection Categories and Attributes: Catalogs/Brochures; DJ Only
Comments on the Collection
How I started: I was looking for a nice copy of Six Plays by Kaufman and Hart. I found and bought a beautiful copy with DJ for $2. While reading it I noticed a bunch of numbered titles on the inside of the dust jacket. Research on the "Modern Library" took me to John Krygier's site first, which then took me to Dogeared. I was hooked. A couple months later, I discovered that I had bought an ML 20 years earlier (Poe, 40.1) in a G8 binding! So, did I really start collecting in the 1980's?
I collect most types of ML books between 1917-1970, with DJ where applicable. I like the P-Numbered paperbacks, and have now acquired a complete set (all 68, plus 2 color variants). The covers are interesting, and this is the only pre-1970 area to have any math/science titles. I am also attempting to get a complete set of the Boxed Illustrated (all 15).
Recently, I have been acquiring post 1970 and MLCE editions of titles not in the classical period (for example T91 Later Plays of O'Neill and Wells/Island of Dr. Moreau).
Collection Images
(Click on image for full size)
The collection, circa 2006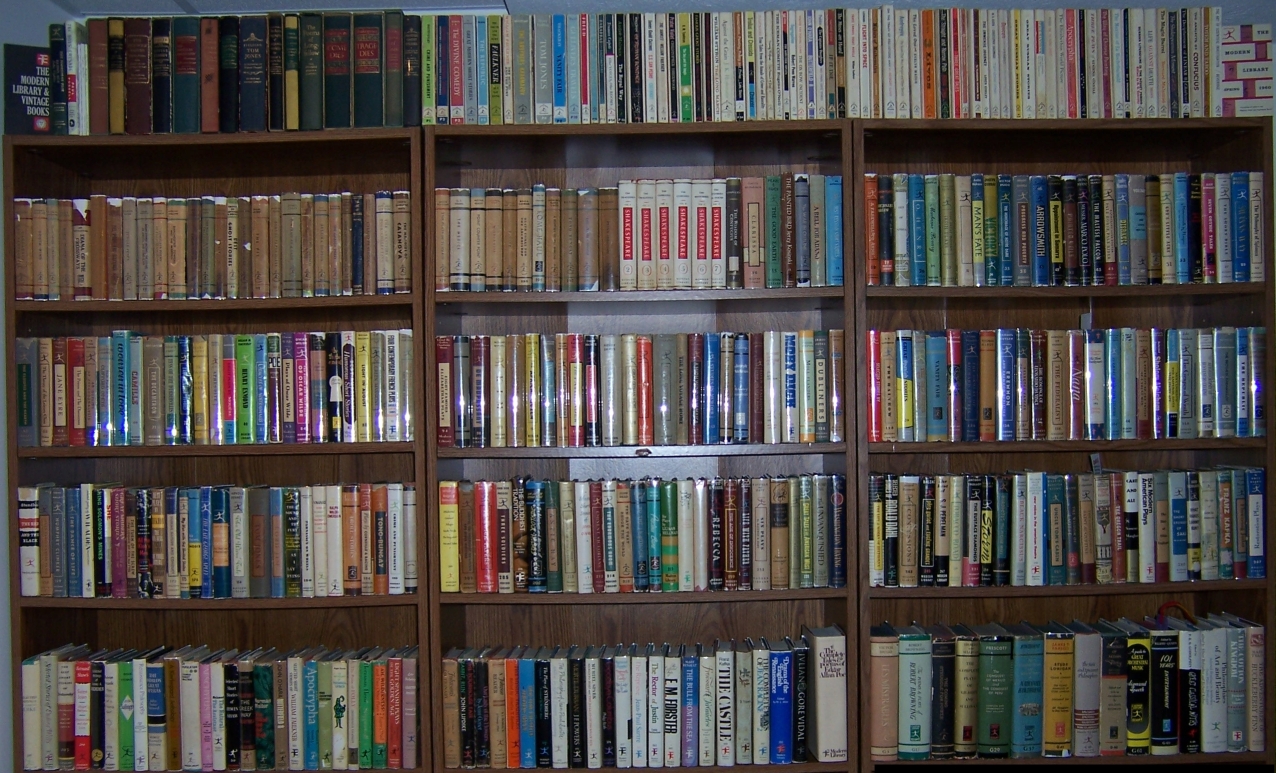 My first B&L, with dust jacket.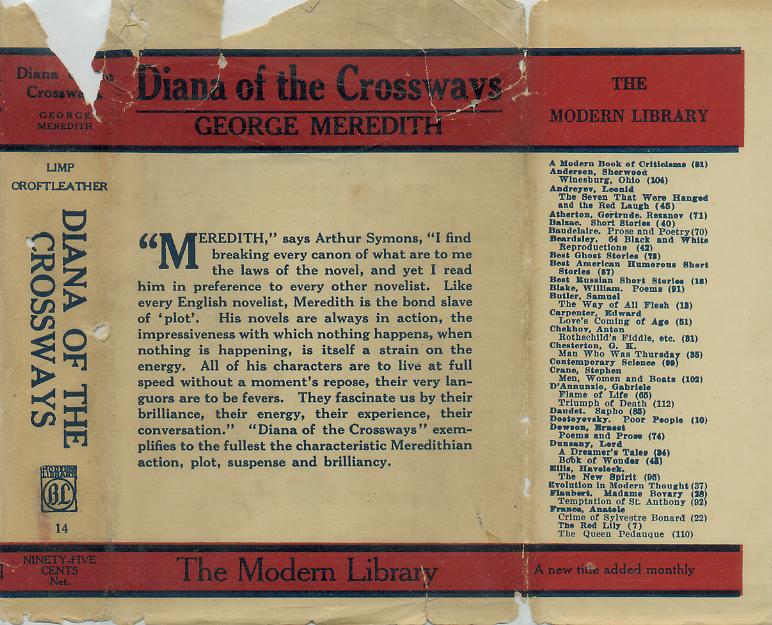 Some of my more valuable MLs. All of these are first editions.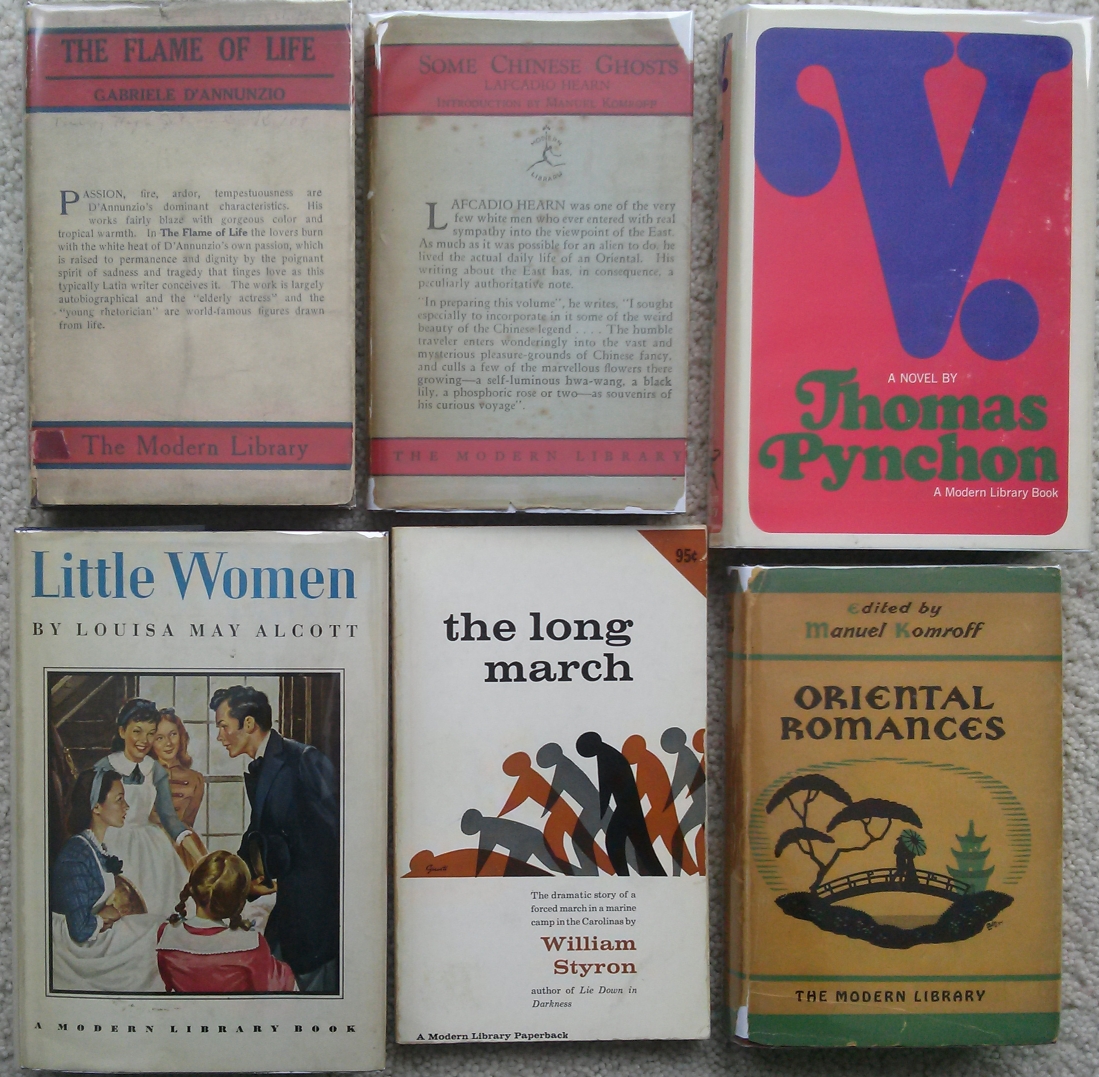 On the More Personal Side...
| | |
| --- | --- |
| Favorite ML Titles | Disliked ML Titles |
| Pickwick Papers | Lord Jim |
| Zuleika Dobson | Daring Young Man on the Flying Trapeze |
| A Treasury of Damon Runyon | Don Quixote |
| Collected Short Stories of Ring Lardner | |
| Six Plays by Kaufman and Hart | |
ML Title Currently Reading: Bleak House
Last ML Title Read: Andrew Jones
How Many Modern Library books have I read?: 125
In addition to ML titles, I am also currently reading the Jeeves series by P. G. Wodehouse.
Personal Image
(Click on image for full size)
My wife and I with two of our kids during their elementary school graduation.