Collector Page for Scot Kamins


Member since 9/28/2005
| | |
| --- | --- |
| Location: Portland, Oregon | Collector Since: 1993 |
| | |
Collection Properties

Types of ML Books Collected

Regular

Giant

P-Numbered Paperback

Buckram

Illustrated/Boxed

Illustrated/Acetate

Types of Bindings in Collection

&nbsp

&nbsp

&nbsp

Total Titles in Collection: 975
Other Collection Categories and Attributes: Catalogs/Brochures; DJ Only
Comments on the Collection
I try to get the cleanest copies in the best condition I can find. I often trade up, although I like to begin with the best available. If I can find a first, all the better -- but a non-first in great condition suits me fine. I also collect ML ephemera because I think it rounds out the collection. My collection used to be quite a bit larger, but I found it necessary to sell off my scarcer pieces. Luckily, as the caretaker of Dogeared, I have the largest virtual ML collection on the planet.
Collection Images
(Click on image for full size)
These three photos show a portion of my books in an 8' X 9' bookcase I had installed specifically to hold my ML collection.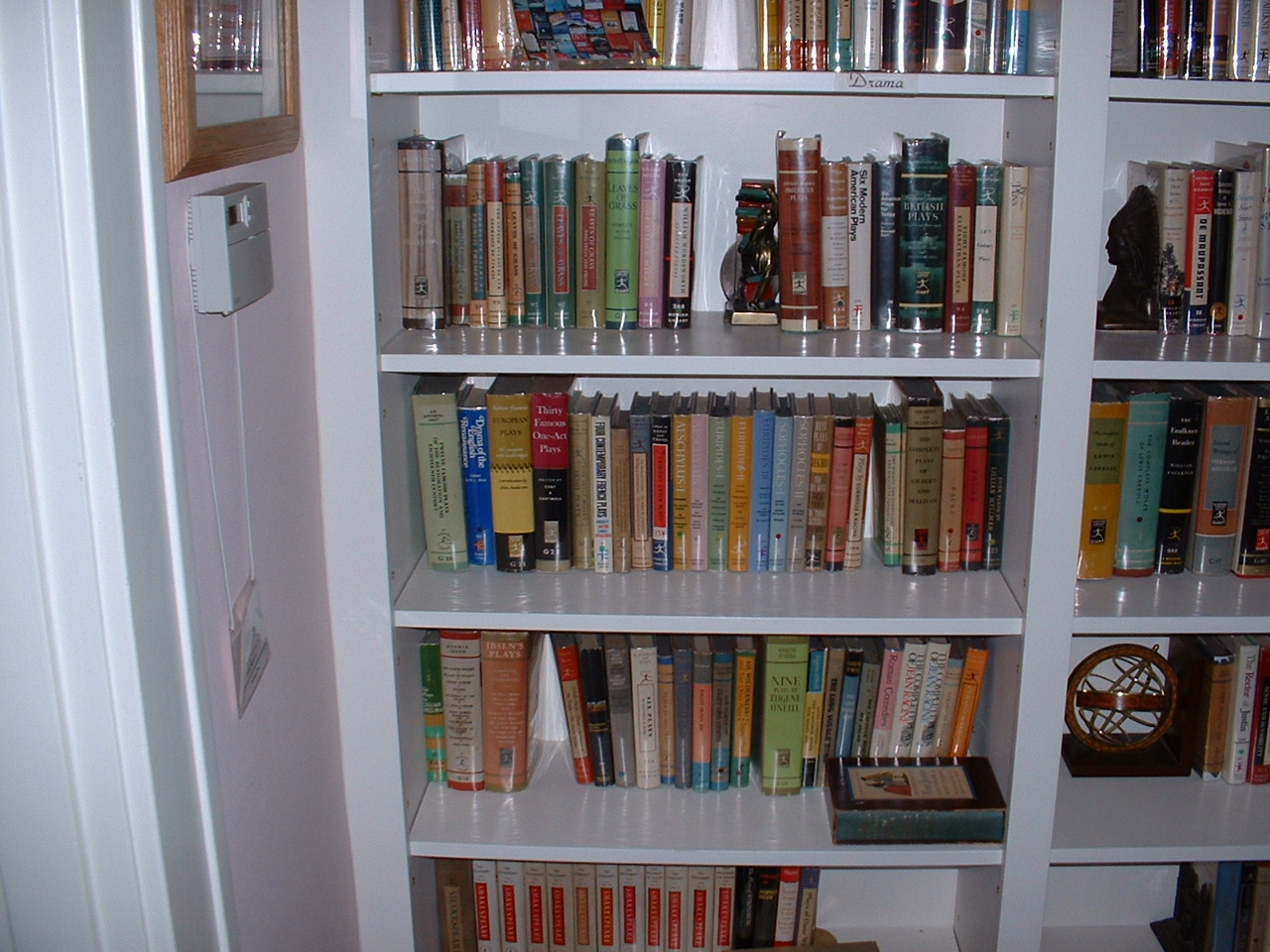 I sort the collection by categories (note the labels over some of the shelves) because I read what I collect.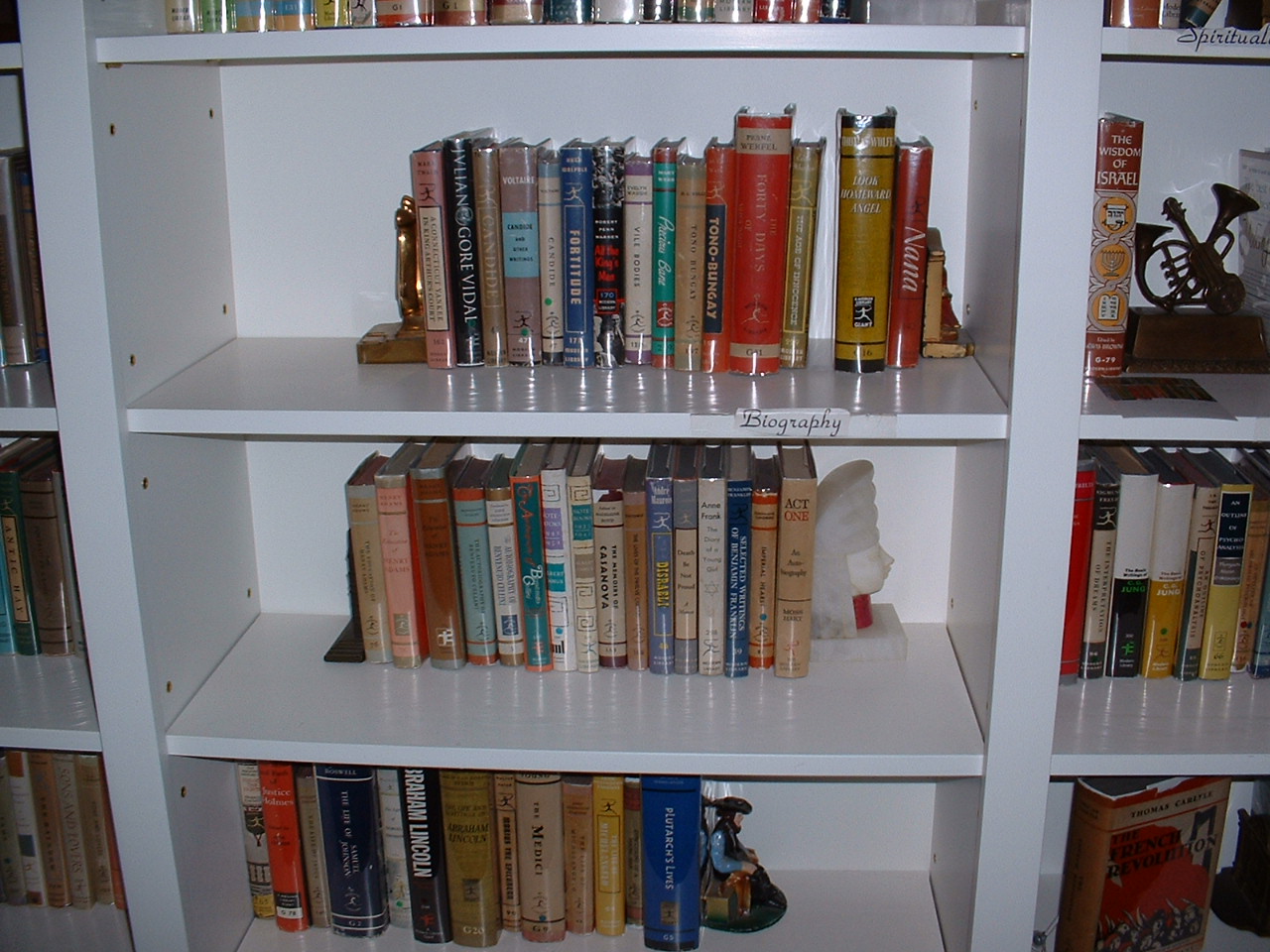 You can also see pieces from my bookends collection. Before I buit the special bookcase, I had my MLs all over the place and needed bookends to hold them up properly. I decided that, if I was going to use bookends to hold my books, the bookends should be as special as my MLs.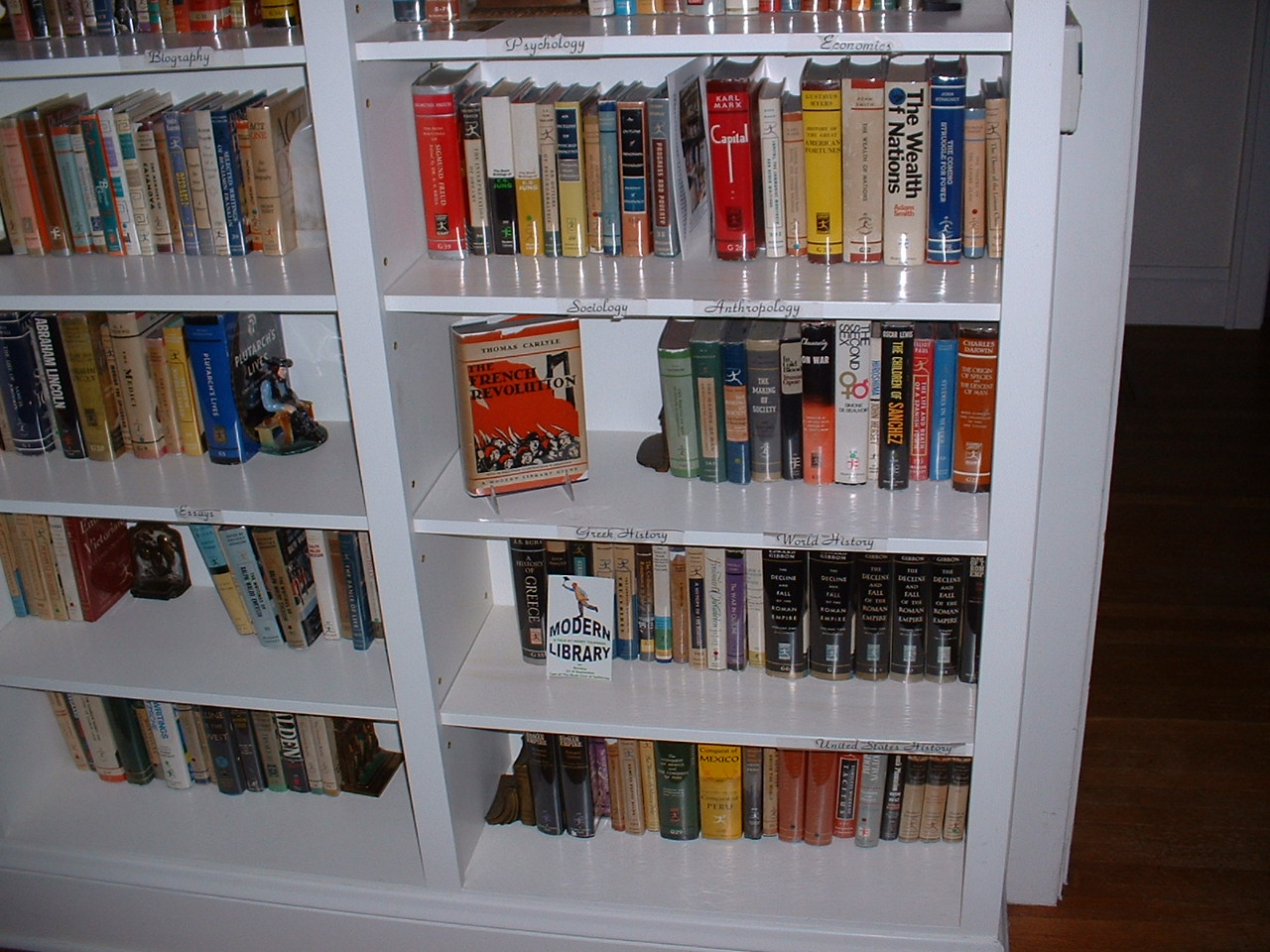 On the More Personal Side...
| | |
| --- | --- |
| Favorite ML Titles | Disliked ML Titles |
| Pickwick Papers | The Red Lily |
| Zuleika Dobson | Death be Not Proud |
| In Dubious Battle | The Short Bible |
| I, Claudius | Ulysses |
| Selected Prejudices | |
Favorite Dust Jacket: Candide, 1935
ML Title Currently Reading: Evolution in Modern Thought
Last ML Title Read: Picture of Dorian Gray
I bemoan the fact that ML changed so much after the mid 1970's. Starting with less care in the printing process, then going from sewn to perfect bound pages, removing the numbers from spines, and finally raising the prices to meet the market -- all these things removed the Modern Library as the first source to use in looking for books. But nothing much happened in the world in which I'm interested after the mid-70's, so I guess I can stand it.
Personal Image
(Click on image for full size)