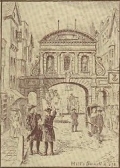 Moon and Sixpence (027.2)

Maugham, W. Somerset

Item ID: 469
Price: $4
Binding #8, type h1 jacket. VG/VG- Boards and pages clean. PON front fly. Jacket chipping top and bottom of spine, small chip along front top, spine a little darkened. $1.10 ML sticker over 95 cents, not clipped. In protective cover. 304 titles listed.