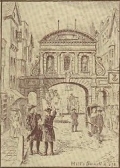 Confessions of Jean Jacque Rousseau (243.1)

Rousseau, Jean Jacques

Item ID: 657
Price: $7
Binding #8, type h2 jacket. VG/G+. FIRST MODERN LIBRARY EDITION 1945 (stated). Boards and pages clean. PON front end paper. Bumping on spine ends. Jacket loss to top of spine, chipping along front and back top, discoloration lower spine. Closed tear along front cover/flap edge. 95 cents price not clipped. In protective cover. 309 titles, which is correct for the first jacket.