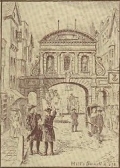 Selected Poetry and Prose (274.1)

Shelley, Percy Bysshe

Item ID: 700
Price: $3
Binding #8, type i jacket. VG/G. Boards and pages clean. Spine end bumping. Gilt dulling on front cover. Jacket has chipping upper/lower spine, closed tear along upper spine edge, closed tear upper right, wear across top, and partially inked in "SHELLY" and torchbearer on front. Taped on back where the closed tears are. Price clipped. In protective cover. 388 titles.