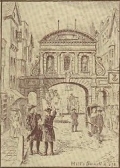 Red and the Black (157.1)

Stendhal, Marie-Henri

Item ID: 719
Price: $3
Binding #8, type h5 jacket. G-/G-. Front cover has discoloration spots, spine end bumping. Binding loose, starting to separate at front fly. Pages clean. Jacket spine has some sunning, text is readable but a bit faint. Chipping upper/lower spine, and along all edges. $1.25 price not clipped. In protective cover. 358 titles.