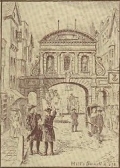 Complete Novels (Giant) (G037.1)

Hawthorne, Nathaniel

Item ID: 863
Price: $5
G5 binding, type Ge jacket. G+/G. Red cloth on spine lightly faded. Binding a little loose. Writing (underlining and bracketing) on a few dozen or so pages. Jacket wear at spine ends and along spine; other edges have light wear. In protective cover. Titles listed but no number given.