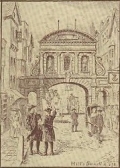 Life of Michelangelo Buonarroti (049.2)

Symonds, John Addington

Item ID: 735
Price: $4
Binding #8, type h1 jacket. VG-/G+. Boards and pages clean. Spine ends bumped. Gilt bright, especially on front. Wear lower front. Jacket spine sunned, text is faint but readable. Loss to upper spine. General wear. 95 cents price not clipped. In protective cover. 292 titles.