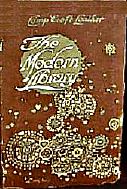 Click the image for a blow-up of the DJ outside. Click here to see the inside flaps showing a late fall 1917 list.
Modern Library dust jackets are often quite distinctive. In fact, many collectors were first drawn to the Modern Library because of the wide variety of great dust jacket designs that have appeared in the long history of the series.
But in 1917 there appeared a design that defies logic. The dust jacket, designed by Willy Pogany whose name appears near the bottom of both the front & back panels, gave no indication of the title it covered, nor of its author, nor anything else except that the book was in the Modern Library series and was made of "Limp Croft Leather." In order to display the book with its title showing, you'd need to tear off the top of the dust jacket spine. Collectors report two catalogs on the inside flap, one from July 1917 with the C2 list and the other one from Sept. 1917 (last title is #37 Evolution in Modern Thought).
Barry Neavill speculates that jackets for individual Modern Library titles may have run short on several occasions, and so the publisher (Boni-Liveright) decided to order some generic jackets that could be used in a pinch on any Moden Library book.
The generic dust jacket seems to be extremely rare with only four examples reported so far—one each on copies of Evolution of Modern Thought, Wilde's Poems, Shaw's An Unsocial Socialist, and Best Russian Short Stories.
---