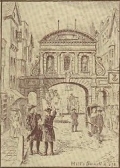 Moon and Sixpence (027.2)

Maugham, W. Somerset

Item ID: 471
Price: $1
Binding #13, type el3 jacket. G-/G- Pages have wrinkling, light stains on page edges. PON front fly. Jacket has moderate scrape front by title, small inked writing top front, wear to spine top and bottom, and along all edges. $2.45 price not clipped.