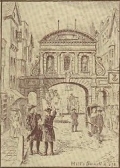 Poetry of Swinburne (023.1)

Swinburne, Algernon Charles

Item ID: 734
Price: $5
Binding #8, type g jacket. VG/Fair. Boards and pages clean. Spine end bumping. Jacket has 1/6 loss to front cover, large chip spine top, chipping lower spine, chip along back/spine edge. 95 cents price not clipped. In protective cover. 284 titles.