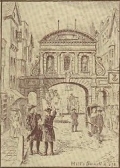 Philosophy (Giant) (G034.1)

Nietzsche, Friedrich

Item ID: 916
Price: $1
Binding G5, type Gd jacket. G/Fair to Poor. Boards clean, some bumping to spine ends. Writing and underlining on pages. PON sticker front fly. Jacket is complete, but closed tear at spine top, yellowed tape at spine top, wear at spine bottom, closed tears along front and back side edges. 344 titles.