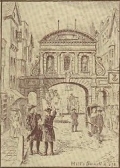 Selected Writings (Giant) (G075.1)

Stevenson, Robert L.

Item ID: 936
Price: $3
Binding G5, type Ge jacket. VG-/Fair. Boards and pages clean. PON front fly. Light discoloration on spine. Jacket has loss to lower 40% of spine; author, titie, editor retained. Chipping/wear to spine top and corners. In protective cover. 377 titles.